Disney's Halloween Treat Review
Before the pumpkin obesity epidemic.
"Now, wait a second!" the outraged reader exclaims. "You can't talk about Cannibal Holocaust and then Disney's Halloween Treat on the same blog! What the hell even is Disney's Halloween Treat?" And that's where you're wrong, reader- I can do whatever the hell I want. At least until someone starts paying me. And, today, I want to talk about this either straight to video or straight to TV compilation of Disney clips, because I'm named after a fucking dinosaur.
So what is Disney's Halloween Treat, I think you asked? It's a special that started airing on TV- this was, I imagine, before the Disney channel- in 1982 and was later released on VHS in 1984. Now, the DVD release has never happened, and judging by both the quality and early 80s cheese on display here, you'll be waiting for a long time to come. How Baryonyx watched it is none of your business.
This is another reason it may not see release.
There's no story here, so let's not get carried away looking for one, but can we look at that picture? That's Mickey Mouse with a shotgun! This was on TV, and shown to Baryonyx and his sisters from the time they were children! Without turning into a paleoconservative here, none of us ever killed anyone. If you want my perspective, Mickey should have a gun more often. Inject the character with some fear! Make it happen, ESPN Disney.
The compilation is more of a historical oddity for those that have some knowledge of Disney cartoons- I only have a little, but I find it very strange and very early-80s that there's a badly colorized version of The Skeleton Dance in the opening credits. Or some of the selections- a great deal from Disney movies and non-feature cartoons are on display here, including an actually somewhat scary compilation of Pluto cartoons. I know, I know, that sounds ridiculous, but the cartoons feature Pluto (obviously, a dog) in all sorts of shenanigans with cats, and then a trial put on by a crooked feline judicial system. I just typed "crooked feline judicial system."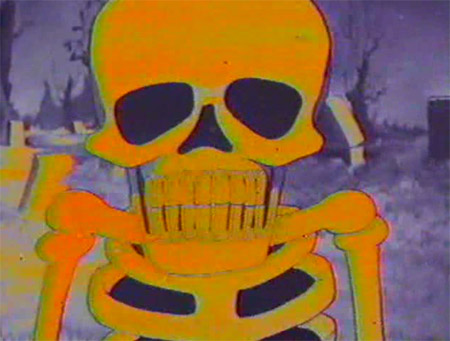 …what?
There are other highlights, including a silly Donald Duck cartoon where he faces off against an evil, apparently man eating, gorilla. The house this occurs in has to be the least sensible one ever conceived. There's an impossibly long table with loose planks all over it, four consecutive celings that contain nothing but plaster, and tear gas within the reach of Donald's nephews. Of course, the tear gas here is the pun brand and only makes Donald and the gorilla cry. I went to school by a G-20 protest once. Tear gas is a little stronger in reality than depicted here, but I digress.
As for movies, there are a few selections but each seems sort of odd. The Sword and the Stone to lead off? That's your Halloween leadoff clip? To its credit, the film ends with The Legend of Sleepy Hollow, managing to shoehorn both a frightening story and Bing Crosby into your movie. I'd say that's a success.
Can you find this movie today? You'd have to be very lucky or look very hard… but then again, what would Captain Hook do?
WWCHD
Here's a nice lawyer-y note: Don't pirate movies. Support the film industry. For real.